Here are some of the tea room dishes you'll find in the book!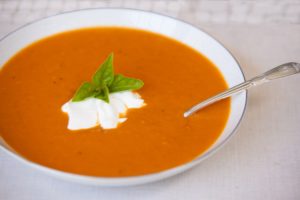 Soups
Tomato Soup, and Scotch Broth and Cream of Mushroom served in Pogue's Camargo Room
Hearty Chicken Noodle, Vegetable and Mulligatawny served in Shillito's/Lazarus
Salads
Chicken Salads served at the Woman's Exchange, Shillito's, and Pogue's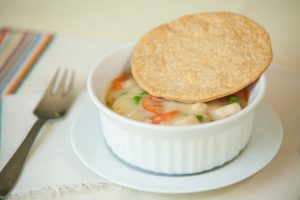 Old-time favorites like Ambrosia, Tomato Aspic, and Sweet-Sour Slaw
Salad Dressings for tossed greens, including Pogue's French and Lazarus's Italian
Sandwiches & Main Dishes
Cucumber Sandwiches, Shillito's Chicken Pot Pie, and Ham Loaf with Pineapple Sauce
Accompaniments
Bran Muffins served at McAlpin's and Lazarus's Carrot & Apple Scallop
Desserts
Shillito's Cheesecake and Lazarus's Bread Pudding with Whiskey Sauce
Here are a few sample recipes!
Bread Pudding with Whiskey Sauce
Custard Mix
2 cups granulated sugar
1 teaspoon salt
8 extra-large eggs
1 teaspoon vanilla
In a large bowl, blend eggs, salt, and sugar lightly with a wire whisk.
Add vanilla and milk.
Blend and strain
Set aside.
Pudding
½
 pound French bread, preferably stale
4 ounces (
½
 cup) butter, melted
Break bread into medium pieces.
Add pecans and melted butter.
Arrange in greased 9″ x 13″ baking dish.
Pour custard over bread pieces.
To bake, place the baking dish in a larger pan containing a small amount of water to create a double boiler effect. (For custard to bake properly, you must create this double boiler effect. Plan size of pan accordingly.)
Bake at 350º for 50 to 60 minutes or until a knife blade inserted into the center of the pudding comes out clean.
Whiskey Sauce
8 ounces (1 cup) butter, melted
2 cups powdered sugar
2 extra-large eggs
2 Tablespoons whiskey
Melt butter.
Whip in powdered sugar.
Fold in well-beaten eggs.
Add whiskey.
Serve warm over bread pudding.
Cook Notes:
This home-style dessert is a classic New Orleans recipe and was the most requested dessert at Lazarus.
[Yield: approximately 16 servings]
Recipe from: Recipes II From Our Restaurant Associates: Lazarus Celebrating 100 years of fine food: Written and Distributed by Lazarus Department Store, Columbus, Ohio  (believed to have been published in 1991).
Lazarus Chicken Salad
1 quart cooked chicken breast, cubed
1 quart celery, medium diced
1 pint pecans, roasted and salted
1 pint Lazarus Chicken Salad Dressing
Mix chicken, celery and pecans together and add Lazarus Chicken Salad Dressing.
Toss gently. Do not over-mix.
Chill thoroughly.
Can be served in a lettuce cup with additional salad dressing on top.
Cook's Notes:
"It's a Lazarus exclusive! Developed in 1935…" and was their single biggest selling item on the menu.
Yield: 12 large salads
Chicken Salad Dressing
Blend of 1 part Boiled Dressing and 3 parts Mayonnaise
Boiled Dressing
½ cup flour
½ cup sugar
2 teaspoons dry mustard
1Tablespoon salt
1teaspoon paprika
2 cups milk
1cup heated vinegar
¼ cup egg yolks
Thoroughly mix dry ingredients, add to milk and cook in double boiler until flour is thoroughly cooked.
Add heated vinegar and continue to cook for 10 minutes.
Beat egg yolks and add a little of the mixture to the yolks to keep them from curdling.
Return the yolks to hot mixture and cook for 10 minutes longer.
Chill.
Yield: 1 quart
Mayonnaise
1teaspoon salt
1teaspoon paprika
1teaspoon dry mustard
Pinch white pepper
1Tablespoon sugar
4 teaspoons cider vinegar
1Tablespoon tarragon vinegar
4 teaspoons lemon juice
1teaspoon Worcestershire sauce
Drop Tabasco sauce
1/3 cup egg yolks
3 1/3 cups oil
Combine dry ingredients with liquid ingredients, except oil and egg yolks.
Beat egg yolks until light and creamy.
Add vinegar mixture and oil alternately to beaten egg yolks very slowly at first until an emulsion is started.
Beat until a thick, creamy consistency is achieved.
Cook's Note:
It is this dressing that makes Lazarus Chicken Salad so special.
Yield: 1 quart
Recipes from: Specialties of the House – Cincinnati Dining Guide with Recipes by Ralph and Martha Johnston (copyright 1996). Published by McClanahan Publishing House, Kuttawa, Kentucky.